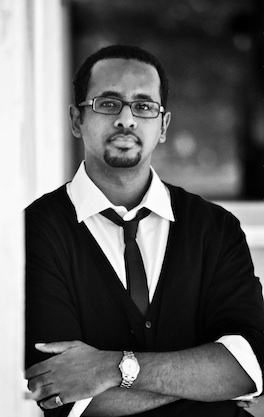 "Fundamentalist Muslim, turned hippie Sufi and fan of science."
That's how Amir summed himself up on his blog The Sudanese Thinker, a North African Arab socio-political medium that, along with other aligned activities, has garnered the 25-year old worldwide interest for his forthright opinions and progressive voice, earning the attention of USA Today, The New York Times, Wired, The Economist, BBC, The Guardian and Al Jazeera, amongst other media outlets; and speaker slots at the 2011 and 2012 Oslo Freedom Forum in Norway.
Amir joined Mindvalley in 2007 as an intern then an SEO specialist, but it wasn't long at all before the hungry online media geek and entrepreneurial activist became the company's youngest online business manager (at the time). Amir is also the co-founder of Mindvalley Arabic, which he aims to use to help fuel and develop the region's emerging hot e-commerce scene as well as spread self-empowerment online education to the Arab world.
We're using our bragging rights here and are proud to announce that New York's prestigious publisher St. Martin's Press, under Macmillan, has recently picked up Amir's upcoming book on the digital revolution's impact on religion and politics in the Middle-East. We're counting down the hours to his celebration party here at Mindvalley as we speak, so we decided to grab a few minutes with the debuting author himself to tell us more about his first book.
Q1: Amir, tell us, what is your book about?
A: The book actually contains a number of themes. Mainly, it's:
1) a coming-of-age memoir about my journey of spiritual and political awakening;
2) a sometimes "take off the gloves" harsh, sometimes delicate constructive critique of organized religion; and
3) a prelude to the Arab Uprisings and the instigative history of cyber-activism in the region that lead up to the revolutions.
In my prologue, I write, "This book is my story. Part memoir, part manifesto for liberty, it's about my relationship with Islam and its guardians. It's about my journey from arranged marriage to infidelity to the brink of irreconcilability… and back."
Yes, as in "arranged marriage" to faith and tradition, and having expectations placed on you by society to remain wedded to norms and values you neither chose nor necessarily desire. As one of my favorite liberal thinkers, the Sudanese-born American scholar of Islam, Abdullahi An-Na'im says, "if I don't have the freedom to disbelieve, I cannot believe."
Moreover, the book is also, "a meditation on blogging and the internet, and how they've forever altered yesterday's dictatorial politics of ignorance and ushered in a new politics of knowledge that helped trigger and facilitate the so-called Arab Spring. It's about courageously following your heart's cause, finding your tribe and doing what you can to help change the world. It's about the search for identity, meaning and ultimately, Truth.
Q2: Do you have a title for your book already?
A: Definitely. It's tentatively titled Islam: A Love Story – The Making of a Digital Activist. The "Love Story" aspect has a lot of drama in it – love, divorce, fights –and some rather irreverent ideas. Hopefully they won't get misunderstood or taken out of context.
Q3: Who is your book for? Who are you reaching out to?
A: Here's how I answer that question in my prologue:
"If you're someone who's had a difficult relationship with religion, or you have a deep interest in it; someone who's got a burning desire to help advance freedom, human dignity and justice on our increasingly shrinking planet; someone who's passionate about personal and collective transformation and self-empowerment, what I write is for you.
"If having your beliefs challenged boils your blood, this book is probably not for you.
 "Lastly, if you value evidence, and if you passionately believe that God (or "God" if you wish) shouldn't be reduced to ink on paper, but should instead be experienced, expressed and honored freely in love and ecstasy, and without coercion, then this book is certainly for you."
Q4: What do you want readers to take away from your book?
A: Freedom. Irreverence. Mystical wonder. I firmly believe in those three things as virtues, and I hope my book helps inspire readers to embody them more in their own lives. Overall though, I just wish to play my tiny humble role in nurturing empathy and compassion amongst ourselves, amongst womankind (not a typo), and helping facilitate insightful cross-cultural conversations that break down barriers, and promote understanding and Oneness.
As cheesy as it sounds…
Q5: Tell us about the making of this book
A: The book is really the result of five years of blogging, reading, mental torture, introspection, and synthesizing a raging hurricane of insanity and ideas into something coherent. In earlier versions, I never set out to write it as a narrative-driven treatise. That part came later when I became more comfortable sharing intimate personal details about my trials and tribulations.
I found out that writing this way, after encouragement from my personal editor, was extremely therapeutic, and healing. The final version of the book, after it had finally become ready in my more mature mind and heart, got cranked out in the span of five months.
Q6: What kept you going during those long nights of drafting?
A: From day one, when the idea sank in, I just simply, absolutely, irrevocably couldn't fail to finish the book. I had to do it, or else I would have gone mad with all those thoughts and feelings festering within me.
Also, here's a personal confession. As it crazy it may sound, I don't feel that "I" wrote this book. I just feel that I'm a servant. Serving a "Higher" voice, at times, feeling like I've articulately written what "It's" telling me, and at times, feeling like I've egotistically failed at capturing the fullness of the ideas coming to me. Hence, any shortcomings to-be detected in the book when it's published in 2013 are mine, and mine alone. And any and every piece of stirring beauty to-be found is all but mine. It is my "Beloved's."
In short, certain modes of writing, certainly the mode I was in while writing this book, that, that to me is a form of "spiritual practice." Once I embraced that, and woke up to it, all fear and self-doubt pretty much dissolved away.
Writing.
Is.
Sacred.
Enough said.
Look out for Islam: A Love Story – The Making of a Digital Activist by Amir Ahmad Nasr; we have no doubt that his is a voice of his own generation as well as the future's; be it for activism, the Middle East or the rest of the world. We're proud of you, Amir!