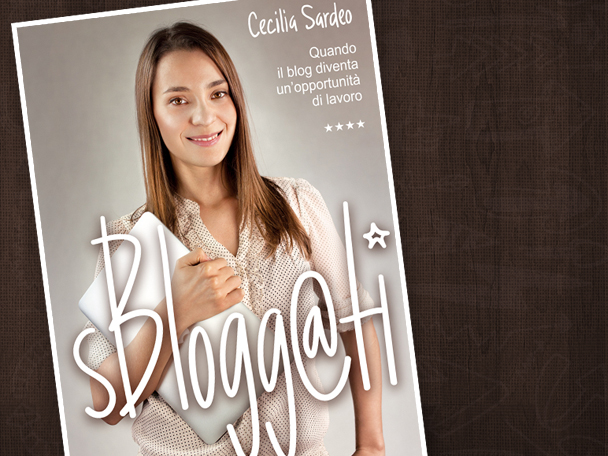 Cecilia Sardeo is the Director of Traffic Acquisition at Mindvalley, Co-Founder of Mindvalley Italy, and a leading SEO strategist. However, her accomplishments don't stop there.
Aside from her success at Mindvalley, Cecilia has also published an e-book called sBlogg@ti in Italian, making her the first of the Mindvalley crew to become a published author – and not just any author, sBlogg@ti has been riding at number one out of the top 100 e-books sold in the last four months since its release.
Further, all the author royalties of the book will be donated to SOS Randagi, a non profit organization that rescues and take care of abandoned animals in Italy.
As such, we are super excited to announce Cecilia's great achievements.Read on to see what Cecilia has to say about her new book when we put her in the hot seat recently.
Q1: What is your new book all about?
A: In the summer of 2010, I started thinking about what my ideal life would entail – and realized I was living the complete opposite!
I was in a job and felt tied to a role, meanwhile, all I wanted was to be as a free bird: to work on things that excite me and to not have to worry about my next paycheck or stress about job security.
sBlogg@ti is my story of becoming an independent and successful blogger in 12 months. Not only does it cover the technical journey from A – Z, but it also includes the who, what, when, where and how questions – dealing with the good, the bad and the ugly experiences along the path of independence and freedom!
The book is a mishmash of stories, tactics, tools and answers to some of the most important questions that a blogger – or wannabe blogger – may have.
For example, how to start a blog without any technical knowledge? How to choose the right niche? How to create a list of loyal readers and customers without a big budget?
I wanted to share not only my story, but give readers the tools to empower them to get blogging too.
Q2: Why do you think this is an important book for bloggers to read?
A: It's often said that "blogs are dead" BUT – here is the truth. Blogs are NOT dead. They have just changed from how they were initially used and created back in their early days.
Author of Rich Dad Poor Dad Robert Kiyosaki says, "You need to change your focus, from making money to serving more people. Serving more people makes the money come in".
I think that a blog is the perfect way to serve people through valuable content. It's important that bloggers realize that content is always king, but of course, it must be married to marketing. I find that the marketing element is often missing in many bloggers' routines – this is what's limiting their success.
You need to know how to craft your content and how to market your blog well enough for people to stick around to read more.
In my e-book I also discuss the business side behind blogging. This means you can have crazy cool content on the web generated by bloggers who won't go broke in the process.
Q3: Where did your inspiration to write sBlogg@ti come from?
A: It was more of a coincidence than inspiration I would say. I was training and coaching a lot of people both through individual consulting and my own digital courses. I wasn't even thinking about writing a book.
Then my current publisher found me through my blog, and threw the proposal at me. The idea was to share my story and to be an example for other people wanting to follow my steps. At that point I suddenly realized I had never shared my story with anyone!
People only came to know me of my expertise once the business took off – however, I felt there was another story I could tell. What about the many obstacles I faced along the way and the strength needed to keep me going when nothing seemed to be right? These experiences are what made me the person (and the blogger) I am today.
And finally it hit me. I come from a country that has been struggling quite a bit lately. Young people especially are losing hope when it comes to planning their career and future. My mission was quite clear: I wanted to bring power to everyone. I wanted people to know that they can better their lives by simply starting to think outside the box. I also wanted to make bloggers aware of their true potential. These two realizations lead to the creation of sBlogg@ti.
Q4: What are your top three pieces of advice for someone with a book idea?
A: The truth is that when you have to think about work, family and a lot of other everyday things, finding the time and constant motivation to write can be a REAL challenge.
While writing sBlogg@ti, there were a few things that made a difference for me:
1. I made technology my best friend
One of the biggest challenges when you're writing on your laptop is getting distracted. A "quick look at emails" can end up being an endless back and forth or "those 5 minutes on Facebook" turns into 50!
As such, I used a free service called Keepmeout.com to prevent me from entering the "black hole" websites that I am addicted to – I read this trick in Tim Ferris' book The 4 Hour Workweek, and it totally came in handy!
2. Little by little…
It took a lot of effort to finish my e-book. It took constant feedback, reviewing, editing, and dedicating a lot of my own time to plough through it. Sometimes I felt so overwhelmed and wondered what I had got myself into. And so, my key practice was to instill a "little by little" schedule.
I scheduled to finish writing a minimum number of pages each day in order to be able to finish everything by the deadline, and I ensured it slotted in around my other tasks and responsibilities – we all have other work and also family life to balance.
Once again I also found help in technology and often used 750words.com to keep myself motivated and on track.
3. I made a public commitment
I gave myself a three month timeline and gave my publisher permission to fine me (yes seriously!) if I failed to finish the book in that time.
I also shared my goal and deadlines with my friends, family and colleagues even before getting started – as scary as that was, it gave me a lot of power because it made me disciplined and motivated to keep on track.
Q5: Lastly, will you be publishing an English version of this book anytime soon?
A: I'm not planning to yet – but never say never!
Well there you have it folks – this young entrepreneur sure knows what it takes to be a successful young businesswoman, leader, Internet marketing expert and author, while inspiring those around her to believe that with true dedication and passion, your dreams can come true!
If you have any questions for Cecilia, please leave them in the comments section below.