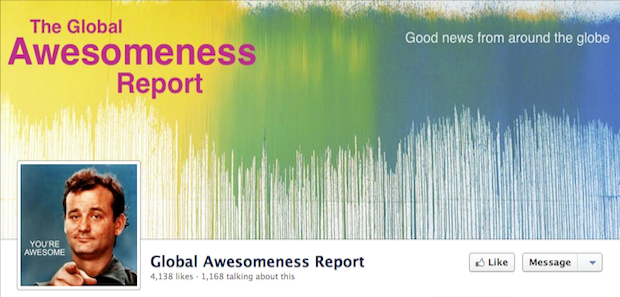 I'd like to introduce you to a new initiative Mindvalley has just launched.
I've always tried to keep myself in a positive frame of mind, as I feel that when you look on the brighter side of life, life tends to actually be brighter.
But it's hard to keep that positive energy when every time you turn on the TV or read the local news you are inundated with negativity. After all, bad news sells better.
So when sitting down recently with a few friends and having the same conversation about negativity in the news, I came up with an idea.
What if there was a news outlet focused just on positive, incredible, amazing news?
Every single day there are hundreds of thousands of amazing things happening around the planet.
For example did you know just last week we came one step closer to the flying car, scientists discovered a healthy link for your morning cup of coffee, and a 73-year-old Japanese woman become the older person to climb Mt Everest.
But these are things that, unless you dig around deep enough on the internet, you will never read about in the regular news. Instead you are treated to earthquakes, war, famine, disease, corruption, crime, murder….the list goes on.
So in an effort to turn the global tide on positivity, we have decided to launch
A news outlet dedicated to nothing but the most positive, inspiring and awesome news.
It's completely crowd sourced, meaning that anyone and everyone can share their positive news stories that they find with us and the world – we only launched one week ago and we already have over 4000 Likes (and growing!).
10 years ago we wouldn't have stood a chance, but now thanks to living in a much smaller world via Facebook we can finally make positive news a reality.
Click here to LIKE the page and check out the beautiful moments of awesomeness that we have gathered from around the planet – it's guaranteed to put a smile on your face.
Yours,
Vishen
P.S – Don't forget, if you know of amazing things happening in your country or neighborhood, then shoot us a Facebook message and we will share it with the world. Go ahead and LIKE. See some of the comments we have received from readers so far!