If you're wondering where Mindvalley stands on SOPA, here's my position.
Online piracy costs us hundreds of thousands every year. Tons of folks pirate our courses. We suffer no less than any other publisher or content creator. But there's no way in hell we'd support SOPA or PIPA. The greater public good has to be taken into account and this means an Internet that's free of government regulation.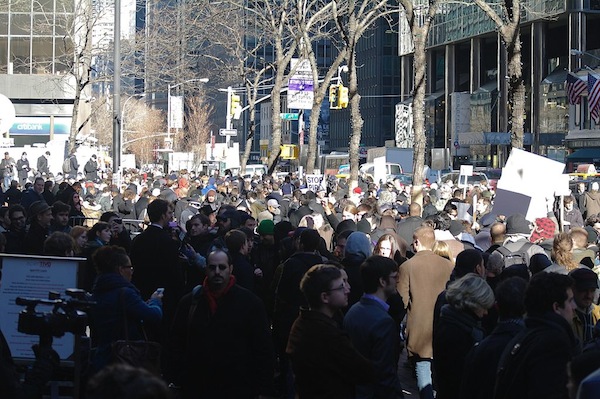 Protest against SOPA in NYC. Photo taken by Alec Perkins, via Wikimedia Commons
SOPA and PIPA are awkward, dumb, dangerous bills put forth by folks who are only looking after their own interest. Hollywood, CNN, Murdoch and the rest of the SOPA supporters need to grow up. Times have changed. Adapt and quit whining. Piracy is NOT going to cost American jobs. That's a myth. These jobs would simply move to industries that are up and coming such iPad app development, games, interactive media and technology.
Secondly, new distribution services would emerge. iTunes fixed a broken music industry and empowered both the artist and the consumer. The only people to suffer were the record labels. The iPad, Kindle and Amazon are going to do the same for book publishers – while authors and the public will win. Hollywood and the TV networks are due for the next big shift. But the general public and the moviemakers will WIN. No jobs will be lost, old business models will simply die. With characters like Murdoch running our TV networks, this is perhaps a good thing.
Piracy costs me hundreds of thousands a year. That's a lot for a small business. But we won't vote to harm the greater public good to protect our own wallets. We'll adapt and innovate.
What's your move Hollywood?