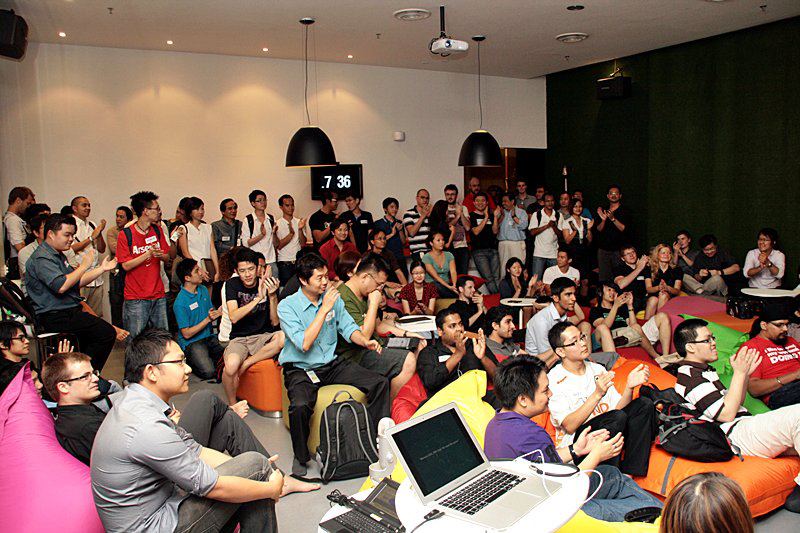 Being an online publisher doesn't just make us fans of the work we publish, but we are also passionate about anything web-related. In our mission to create the best work space and calling on to the world to embrace personal growth, we realise that a large slice of that cake deserves to go back to the community.
Which is why we take many initiatives to spread our knowledge and share them with others who share our passion. For instance – Mindvalley Insights purveys our tools and strategies for everything internet marketing.
But we don't do all the sharing; we help to cultivate them as well. Hence WebCamp – a community of developers, designers and enthusiasts with a burning passion for web technologies and pretty much the latest cool stuff on the net – who gather at the Hall Of Awesomeness at our headquarters in Kuala Lumpur, Malaysia.
Set up by the captain of our tech team – Wu Han in January 2011, WebCamp organizes their once-a-month event to host web-related talks, presentations, discussions and/or networking, or as they'd like to put it – "a bunch of tech geeks hanging out over chips and beer".
Previous speakers feature the unsung heroes of the online market – the people who soldier on for our websites and our online visibility, including SEO expert Michal Pietrusinski, electronics designer Mats Engstrom and hacker Gareth Davies.
But Webcamp also invites business leaders to groom the community into great entrepreneurs, such as consultant and coach Peter Smith, and Andrew Hewitt, the author of The Power Of Focus For College Students and founder of GameChangers 500, a list that profiles organizations that are reinventing the world and redefining the rules of business.
Check out WebCamp as well as photos and talks from their previous events at their website or through their Facebook page, and let us know if you would be interested to form a WebCamp in your city or head all the way to Kuala Lumpur to attend or speak at one of their events!