---
Equip Yourself With Key Habits, Techniques And Skills To Turn Yourself Into A Super Performer At Life
Join Hero. Genius. Legend. on July 20, 2020
with hundreds of students to become a super-performer at work and life.
If you've been feeling…
That whatever you try to do fails…
Like you can't crack success, no matter how hard you've tried…
Like you've been just coasting through life, stagnating, with no sense of purpose…
It's not your fault. The truth is, the streak you can't stick with has nothing to do with your natural abilities.
Thinking like a Genius, Performing like a Hero, and Living like a Legend IS NOT determined by your genetic makeup.
It isn't about how you were born. It's about ONE strategy that you follow.
Habit formation.
Many of the world's most successful people — leaders of impact, famous celebrities, billionaires with influence — follow this success strategy without even realizing it
That's why we highly encourage you to read on and discover a revolutionary approach to not only bringing out the gifts you know you have, but also…
Help remove fears within you so that you can aim for visions and goals that you once thought impossible.
Learn the skills of remarkable leaders so that people are inspired to work with you.
Learn the essence of what makes super performers at work – the 1% in a company or business – who they are. It has nothing to do with skills but a particular set of rituals attitude and mindset.
Become so good at what you do that people can't ignore you.
Develop the same mindset that world class entrepreneurs, sports stars and geniuses have.
Make quantum leaps in your effectiveness at work.
Stay positive and productive at high stress times.
And do all of these without sacrificing your health, your family, or your lifestyle. Because ultimately, it has nothing to do with time put in. But with how you spend your time doing the work you're meant to do.
---
Robin Sharma
---
The Misinformation About Success
You've probably heard a lot of myths about success, performance, genius, and talent.
"It takes hard work, preparation, and talent…"
"You need natural ability…"
"You just need to keep doing what you're doing…"
Or something that suggests that you need double down on hard work, triple down on your strengths, and have some otherworldly talent to top it all off in order to be successful. And you've tried to do some combination of this time after time…
Only to fail.
Because no matter what you did to stick with that routine, commit to that career, stay in that relationship, failure set in. Then, you consider yourself untalented, uninteresting, even unremarkable when you fail.
But you're not to blame.
Most people are approaching success like its a mountain they have to move and it's to move right now, or else you're not a genius, can't be a hero, and legendary living is impossible.
You've been trying barrel your way through to success and nothing has worked.
But that's because society got it wrong.
Focusing on just hard work or natural talent for success are myths.
Because you're not focused on the one thing that ACTUALLY builds success…
Habit Formation.
But 21 days is not enough time to form the neural pathways that allow your brain to cement habits. That time length just another myth. Habit formation is much more involved.
But involved doesn't mean impossible.
Your Genes Don't Determine Your Genius…
Habits Do
Over 80% of the world's most extraordinary people — top athletes, billionaires, and renowned leaders — all have one thing in common…
They all formed the habits to become who they are today.
Backed by a leading edge study published in the European Journal of Social Psychology, it takes an average 66 days to successfully form a habit.
And the proof is in the research…
Genius isn't born, it's built.
You can reconstruct yourself into who you want to be. Daily repetition of habit is the scientific approach to enriching your life.
The science is clear —
Change Your Habits To Change Your Life
That's what this Quest is about: Creating Habits The RIGHT Way
Robin Sharma's Hero. Genius. Legend. Quest is the path to bite sized actions that have a massive impact.
Robin's renowned approach to peak performance training, combined with Mindvalley's Quests platform, lets you cut through procrastination and dial into your genius.
Throughout the Quest, you'll get daily 10-20 minute rituals and practices to form the habits that make the world's top performers who they are today.
The Hero. Genius. Legend. Quest is the EXACT STRATEGY Robin has taught legendary Olympic medalists, extraordinary world leaders, and famous CEOs to form habits for success.
Imagine discovering the success strategy to…
Build Your Genius.
Be the Hero of Your Own Story
Meet and Conquer Your Challenges
Transform Your Growth Step by Step
Achieve what Seemed Unachievable to Become a Legend
At the end of your 66 day journey, you'll be committed to your mastery…
Because your habits determine your happiness.
Robin's guided and strategic Quest will show you daily tactics, methods, and tools to Think like a Hero, Perform like a Genius, and Live like a Legend.
4 Reasons You Are Destined for Greatness with This Program
1. The Result Of Over 20+ Years Of Work In Leadership Training
By coaching hundreds of geniuses and legends from around the world over the past 20+ years, Robin Sharma has perfected the process for invoking legendary results in students like you. This program lets you reap all the benefits of it by making Robin Sharma your coach for 66 days.
2. Daily Repetition To Propel You Into Productivity
This Quest aims to transform your energy, install new methodologies and tools to make big things happen with it… so all of us can elevate the world in the process. It's a calling that will be ingrained in your bones long after you've finished the Quest.
3. Powerful Psychology That Installs High Performance Habits
The guided practices that you'll have will build on themselves daily, for a total 66 days to solidify habits of success. This Quest is built to give you days of discovery and carefully positioned days for implementation of your new skills. The Quest platform gives you time between each skill to begin, practice, and master your new abilities step by step for unparalleled life shifts and productivity.
4. It's Not Just A Program But A Community That Propels You Forward
This Quest aims to transform your energy, install new methodologies and tools to make big things happen with it… so all of us can elevate the world in the process. It's a calling that will be ingrained in your bones long after you've finished the Quest.
Instructor Profile
Meet Your Coach, Robin Sharma
Robin Sharma is considered to be one of the top 5 leadership experts in the world. His work is embraced by rock stars, royalty, billionaires and many celebrity CEOs.
But for Robin – This wasn't an easy journey. As a young and successful lawyer, Robin would wake up in the morning, and look at the person in the mirror who was successful on the outside but not fulfilled on the inside. This "pain," as he calls it, drove him to study the lives well-lived and extract a robust framework for greatness that when applied can turn anyone into a genius and unleash their capacity to live like a legend.
Based on this framework and his own life's transformation, he then wrote the #1 International best-selling book, The Monk Who Sold His Ferrari which instantly become a global phenomenon.
For 20 years Robin has refined and perfected his framework by coaching the leaders of some of the most impactful organizations on the planet such as NASA, Microsoft, Nike, GE, and Yale University.
Today, Robin is on a mission to share his masterpiece framework to millions more people.
What People Say About Robin Sharma
What Some Of The World's Top Figures Have Said About Robin Sharma
---
"Robin Sharma's books are helping people all around the world live great lives."
---
---
Paulo Coelho
"I have been sharing some of what Robin taught with my fans"
This course really cut through the procrastination and wasting time and dialing in becoming productive instead of spreading myself too thin and doing everything. And this course really helped me to cut through all the crap and see what is really important. And thank Robin, because I have been sharing some of what he taught with my fans!
---
---
Lorhainne Eckhart, New York Times and USA Today Bestselling Author
"I reconstruct myself into who I want to be now"
Following Robbins advice, deconstruct now means to me looking at the big picture, examining the small pieces, analyzing how these components have affected my life and directed me to use these pieces to reconstruct myself into who I want to be now.
---
---
Paul A. Andrews DDS, PhD
---
Robin Sharma at his Personal Mastery Academy
Robin's books have sold over 15 million copies
What You'll Learn
6 Ways Hero. Genius. Legend.
Will Transform You
1. Make a Roadmap to Your Purpose
This program also gives your brain clarity to map out where you want to be and WHO you want to be, while providing you with the actionable steps and the tools to get there.
2. You'll Be Committed to Your Goals
As you go through the program, you'll find yourself more and more dedicated to your personal growth. You will build the habit of consistency to pursue and conquer your goals on a massive scale.
3. Start Producing Genius-Level Work
As you install the insights, frameworks and daily tactics to unleash peak productivity and focus, you'll find yourself doing more, quality work in far less time than it used to take you. It's as if you have super powers.
---
4. Sustain Your Habits
As you go through the Quest, you'll be surprised by your innate capacity to do the extraordinary. What's more surprising is that it lasts long after you complete the quest. You'll have built habits that stick, because you've trained yourself to automatically repeat these habits over time.
5. Get the Energy Your Soul Needs to Stay Productive.
Because of the lifestyle improvements you make during this program, you'll reignite your soul in a way that manifests itself physically, to power your productivity. The result of this soul work is lasting productivity over a longer amount of time.
6. Disrupt Negativity
The day-by-day coaching you're about to experience in this Quest is scientifically designed to deliver a copious amount of small victories that force your brain to think different and to let go of anxiety. You'll never need the outside world's approval again.
Program Curriculum
An Extraordinary Quest That Gets You To Think Like A Hero, Perform Like A Genius And Live Like A Legend
The Quest runs for 66 consecutive days starting from July 20, 2020. During this time, you'll spend around 10 minutes daily to unlock insightful ideas and actionable tactics from Robin Sharma via video. And you'll also receive supporting resources to augment your learning.
You'll unlock each day through Mindvalley's exclusive Quest learning platform. So what happens is you're going to go through the program along with thousands of others under real-time guidance from Robin Sharma.
Plus, you'll receive amazing feedback and encouragement from the closely-knit and active community we're building around this course.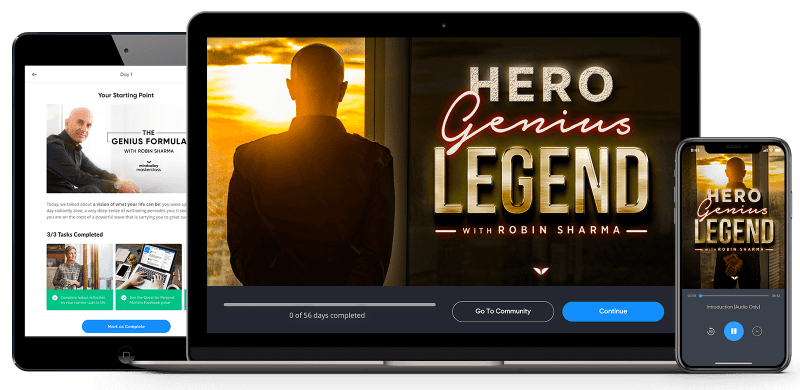 You Get Fast, Lasting Results
In The Shortest Time Possible
Part 1: Foundation For Influence, Impact & Results
(7 days From Day 0 to Day 6)
This is where you lay the groundwork that fires up your innate capacity to be the hero of your life and ignites a burning desire to live your dream life. You will start small and practice simple rituals that gives you a sense of possibility.
Highlights include:
How to inject a perfect dose of gratitude into your busy day.
How to put your mind in greatness mode.
How to bounce back even if you don't feel like it.
How to navigate around the negativity bias of your brain
How to stay utterly and magically inspired all day, everyday.
Part 2: Rituals For Extreme Focus & Productivity
(16 days from Day 7 to Day 22)
In this second part, you'll practice thinking like a Superhero. It includes among other things, streamlining your mental processes to achieve maximum productivity and focus in an age where constant distractions are the norm. This is critical to your success.
Highlights include:
How to set goals like a history maker
How to install a new habit successfully
How to make your mornings amazing
How to wake up productive and positive
How to remain productive throughout the day
How to keep raising your bar in every aspect of life
Part 3: Winning The Race Before It Starts
(15 days from Day 23 to Day 37)
This is where it gets exciting. You'll dive into powerful strategies to switch your inner state from hopeful to unstoppable. You'll fortify your mind so strong that no matter where you go, what you do, you'll come out victorious.
Highlights include:
How to condition your mind for consistent success
How to build an empire in your mind and force your outer world to match it.
How to kill the temptation to quit even before it rises
How to be resilient to discomfort and even pain
How to be so amazing that you need no introduction
How to have everything and need nothing at all
How to light the fire of authentic bravery in your belly
How to use love as a tool for great achievement
Part 4: Cutting Through Mental Materialism
(17 days from Day 38 to Day 54)
This fourth part deals with advanced tools for mental mastery that cuts out inefficiencies and superficialities to bring you crystal clear clarity of purpose and definiteness of your path forward so you're automatically pulled toward your dreams.
Highlights include:
How to be okay with being different
How to hardwire the 8 mentalities of mastery into your brain
How to use your personal mastery power grid
How to discard your past and believe in a remarkable future
How to learn without feeling bloated with knowledge
How to become a habitual giver instead of a taker
Part 5: Being The Master Of Your Universe
(12 days from Day 54 to Day 66)
This fifth and final part is where you take the leap into owning your craft, dominating your industry and flooding the world with your gifts. Before that you'll remove the final barriers – and shine up your mental armor.
Highlights include:
How to beat procrastination
How to be unconditionally brave
How to use meditation to conquer fear
How to practice the 5 tactics of global influencers
How to be a hero
What Students Say
Case Studies Of Students Who Took Robin Sharma's Quest – Hero. Genius. Legend.
---
"Robin Sharma is an amazing teacher who has taken the essence of a lifetime of teachings and put together an incredibly life changing program."
I'm still working on getting into the 5 am club (I worked late nights for almost 15 years and just moved on from my previous remote job on the US time zone; so I'm adjusting gradually) but -I try to wake up earlier and do the 20/20/20 – I already feel way fitter than before.
My mornings start off with learning/ reading something inspirational and a gratitude journal, so the rest of the day is so much more high consciousness! I do the second wind workout and feel wonderful :)
I've either meditate or watched movies or slept on long haul flights before. Now, I either meditate or hear podcasts and documentaries! I got off an 8-hour flight and was still so fresh!
Robin's every sentence is a gem. One of the many is "Unexpressed potential turns into pain" That is a life changer for me! I am going all out now to take action and execute on my inspiration.
Also, I've been teaching this and so many other maxims to my family members and the impact on them is phenomenal.
I watch and appreciate sunsets, flowers and nature deliberately – that fills me with inspiration and more gratitude!
Robin Sharma pays equal attention to 'Mindset' and 'Heart set' – that's why this quest is so unique. There are so much information and inspiration packed into each day that I listen to them over and over again – and each time I feel empowered!
---
---
Anu
---
---
"The programs build small habits and encourage the consistency of regular actions that over time becomes part of your life!"
I now have a basket of great growth considerations for my journey. Some of the Robin Sharma guidance thoughts that are now part of my daily ritual are the morning declaration (repeated many times a day), doing the best I can on a task early in the day, the deep learning focus, the second wind workout that has been incorporated into my health and exercise routine, regular journaling and in particular the blessings, wins and gratitude reminders – we can never say thank you enough for what the cosmos brings to each and every one of us.
Thank you for the opportunity to learn from Robin Sharma and to grow in a unique and inclusive way that covered mind, body and soul.
---
---
Philip
---
---
"The changes that I have experienced from embracing the strategies is my reason for the recommendation"
Whilst prior to engaging The Hero.Genius. Legend. program with Robin I chose changes and specifically 'Success' for 2017. I type it multiple times a day to integrate my focus. I also step through collages that I have made, I place them like a mat on my floor and walk into them many times a day. The pictures are of what I seek and they are the first and the last image I see each day.
The Hero.Genius. Legend. program has supported me along this focus offering me new strategies and inspirations to strengthen my commitment to my changes which include packing up and selling my home, changing location, new work, a new relationship and I am so grateful for all the variety the daily lessons have offered. I'm outdoors more, moving more, I've changed shape and I'm healthier and all these changes support me energetically and mentally to help me get to where I want to go. I'm seeking the changes for my fabulous life. I can hear Robin saying – 'it's hard at first, messy in the middle and beautiful at the end'. and there are moments when recalling this is most helpful :-) It' great to be able to listen and see the daily lessons as its help with the recall to a variety of senses – visual, auditory and certainly emotion as Robin expresses with great enthusiasm.
Life is to be experienced. I've kept up my 66 days traveling between countries, at airports in Starbucks, on the highway in both Australia and Hawaii.
With gratitude and thanks,
---
---
Moira
---
---
"The information Robin Sharma provides in the course has been life transforming in my professional life and personal life"
I am more efficient at everything. The daily practice of identifying 5 daily wins and 10 blessings at the start of my day sets the tone for a great day every day regardless of what transpires during the day. The 10 maxims, 8 mental masteries and all the other amazing time and mind hacks (brain tattoos) I learned during the course have been priceless.
I received a professional award of being recognised as ones of the top 10% lawyers in the profession and also starting a new business as a result of Robin's course.
It is an extraordinary course.
---
---
Rose
---
---
"Hero. Genius. Legend. Quest and Robin's teachings have been extremely fun to learn and participate iny professional life and personal life"
It's helped me hone my morning practice and to do it with consistent, intentional action.
The impact of fear and why stepping into it is the only way to fulfill our potential. Little daily hacks (Second Wind Workout, Journaling, Reading, 5 AM Club, Habit Installation Protocol).
Reassurance that it is okay (and intelligent) to continue to invest in myself and work on personal mastery
"Big Picture" ideas such as: how to live a beautiful life, how to live with no regrets, and that who you become and the relationships you foster are much more important than what you accomplish or acquire in your lifetime,and, of course, the highly profound quotes he drops on a regular basis (which seem to be endless, by the way).
It is an extraordinary course.
---
---
Kevin
---
Join Now
Our Commitment To Leading Edge Education At Prices That Everybody Can Afford
Typical tuition fees for a program of this caliber, where a master coach guides you through over a period of 66 days… will typically cost you thousands of dollars.
But since we're committed to getting these to as many people as possible Mindvalley is committed to creating the best programs in the world in our categories and then delivering them at a fraction of the regular price since we have economies of scale…
Our regular enrollment fee is $1,299 for a program of this type and caliber…
But until July 20, 2020, while this program is being offered as a new addition to Mindvalley, you can join at a $549 discounted rate of 56%.
Don't Decide Now — Try The Quest with Robin Sharma For 10 Days
The training you're about join in is the result of 20+ years of Robin Sharma's work coaching world-class leaders and performers to take their game to the next level.
It's worked again and again for thousands of people worldwide.
And we're absolutely positive that you'll see results with it.
That's why we want to give you an opportunity to see the results first-hand without any risk. You can join now for the Quest with Robin Sharma and try the experience for the first 10 days risk-free.
Yes, that's right.
You can start the Quest on July 20, 2020, go through all the training videos and participate in the community learnings for the first 10 days. And only then you decide whether to keep the quest or not.
And if you're not over-the-moon with your results, simply visit our and fill a short form to get an instant refund. It's that easy.
So get started now. You have nothing to lose but a whole new world to gain.
Why Order Today: Two Powerful Advantages Only Available Now
1. The low price it is offered at now
The regular price for this program is $1,299. But when you enroll today, you'll invest only $549 – this is a MASSIVE 56% discount.
Here's why we're doing this.
1) It's our tradition that we offer the biggest discounts for those who participate in our monthly Masterclasses.
2) We want to get it to as many people as possible, fast, so we can have feedback to improve it further.
2. Join Thousand Of Other Students on July 20, 2020, or go at your own pace.
The genius of this Quest with Robin Sharma is in it's learning design. It's carefully crafted to feel like an obstacle race where you take it step-by-step and as a team, overcome all the obstacles that are stopping you from living your legendary life. That's what makes it one hell of an effective program. However, Robin Sharma does not conduct this kind of a program very often. You're just in the nick of time to participate in this and if you pass this chance, you may have to wait a long time for the next quest. So when you enroll today, you'll be starting the race with thousands of other participants on July 20, 2020.
3. Try It For 10 Days: You Don't Even Have to Make Up Your Mind Right Now
This program has it's roots in Robin Sharma's tried and tested concepts that has worked wonders for students like you. Which means this: if you go through the program and utilize the tools, you will see results.
And if you're not over-the-moon with your results, simply visit our and fill a short form to get an instant refund. It's that easy.
You do not have to make a commitment until you've fully tried this out for 10 days. Try at least one lesson and then decide — this is our commitment to our students.
What Happens After You Order
---
Click the Add to Cart above and you'll be taken to a Secure Order Page.
Complete your Order and you'll get an Email with your Login and Password
Your Playing Small Doesn't Serve Anyone
Are you making a good living, and missing out on an extraordinary life?
Nothing hurts as much as the pain of knowing that you have unexpressed potential.
Robin Sharma understands that.
When he was a young litigation lawyer, he lacked true meaning in his life.
Every day just looked–and felt–the same.
Same commute. Same people. Same lunch. Zero fire + passion + mission.
But he realized that the only way to stop the pain is to take the leap and unleash your full potential in life. That's what he did.
And now he's encouraging you to take that same leap.
Robin Sharma has your back. He's in this with you.
And he's counting on you to say YES to this opportunity and unleash your potential so your family, your community and the world will be so much richer than now.
Join today.
---
Here's everything you wanted to know about Hero. Genius. Legend Quest
Frequently Asked Questions
What Students Say
Feedback From Those Impacted by Robin's Trainings
"Your message was truly inspiring, refreshing and profound"
Many of us have heard quite a number of speakers but your message was truly inspiring, refreshing and profound. Your program made us reflect, think, laugh and in some cases cry. I have no doubt our managers will apply your leadership insights to make real improvements in the way they lead their teams and in the way they live their lives, not only in the coming months but in the coming years.
---
---
Don Davis
"Robin Sharma is one of the best things that has happened to me for my personal and professional growth"
Beyond thrilled to know that 2 of my favorite Legendaries – Mindvalley and Robin Sharma are coming together to create some Epic awesomeness!!
I always believe in investing in myself for my personal & professional development. Robin Sharma is one of the best things that has happened to me for my personal and professional growth. I have been following his work since 2013, and have made tremendous progress in my personal and professional life. I also had the honor to meet with him in person and to learn from him at one of his live events.
Best part about Robin Sharma's teachings is he teaches the fundamentals, following which, we can do epic, legendary stuff. It isn't complex set of ideas or work that need to be done in order to make progress. He is very authentic in what he teaches, leads by example, and one becomes nothing short of world-class in whatever one does, if he/she consistently follows his teachings and stay focussed.
---
---
Sonal Solanki
---
"Living a better life thanks to your words"
With respect to your presentation, you should take a private moment to smile at yourself. Many attendees have mentioned to me that they have re-committed themselves to living a better life thanks to your words. Robin, you have made a difference in the lives of the people who attended the conference.
---
---
Mark K. Tonnesen
"I have been inspired by his work"
Robin Sharma has really transformed what it means to be high performing for me. I have been inspired by his work and being mentored by Robin has transformed that inspiration into action. Robin's experience has really taught me what it means to live my life doing work that I love and do it well. It has taught me to be the authentic leader that I know is within me, to pursue goals and do work that matters while also enjoying it. If you have or are struggling in translating that authentic voice into clear actions, Robin Sharma is the man. He is the guy to go to to make legendary work.
---
---
Karfei Cheah
---
"You impacted careers and touched lives"
Your presentation at the Million Dollar Round Table's Annual Meeting in Toronto was well presented – and very well received. Thanks for making a difference with our MDRT audience. In the process, you impacted careers and touched lives.
---
---
John J. Prast
---
"He has a true gift to wake up sleeping leaders in us"
Robin Sharma was my gateway to the Personal Development world. He has a true gift to wake up sleeping leaders in us that we don't know about yet, nevertheless we all have them. Robin taught me what small steps to take to become extraordinary and kept inspiring me along the way. Several years ago I started building a habit of waking up at 5 am. Even though it happened not because of Robin's work in the first place, he was the one that helped me to maintain this habit. I remember there were days when I would wake up and wanted to snooze my alarm. Yet, the second thought straight after used to be: "What would Robin think about me? Am I a titan, a strong and exceptional person, or that weak to give up and sleep?" This is how I transformed my mornings into extraordinary and tremendously increased quality of my life and my work performance.
---
---
Austeja Zvaginyte
---
"You were able to inject excitement and more than satisfy the expectations"
Everyone who attended your session was impressed and motivated by what you had to offer. You were able to inject excitement and more than satisfy the expectations of the attendees in explaining the concepts of your leadership lessons. We, in CIMA Malaysia Division, wish to thank you for a great presentation and the clear lessons learnt would certainly help us to make better decisions in the future.
---
---
Michael Eow
"I became my own savior and hero"
For more than 18 years I filled my brain with negativity, hate and sadness. At some point I started to believe that this was just the way life was supposed to roll out, and that there was nothing I could do to change that. Then, one day I got my hands on the work of Robin Sharma.
After learning more about his experience and wisdom, I realised one thing: everything I hated about me and my life was not linked to the external world, but it was linked to the way I felt inside. I learned that everything in life is created twice, first in the mind and then in the world around you. Since that day I've managed to transform my life and live in constant happiness overdose and have tremendous power of control over how I feel and where I want to get in my life. I became my own savior and hero.
---
---
Alexandru Cucer
---
"Your messages were insightful and on target"
Your high-energy, multimedia presentation made us laugh, and made us think. Your messages were insightful and on target. Thank you for being such an inspirational and thought provoking keynote speaker. You have set a high standard and raised expectations for our series.
---
---
Bill Norman
---
"It was unequivocally the most inspirational message we have heard"
From beginning to end, you had the ability to communicate with the audience not only through your lessons, but as well with the use of multi-media technology. Leaving us all with a positive reaction. One of the comments from our franchisee that summarizes the engagement very well was that "I could really relate to what he was saying and it touched me. It was unequivocally the most inspirational message we have heard at any of our conferences.
---
---
Mo Aladin
---
"Robin Sharma's keynote was awesome"
Robin Sharma's keynote was awesome. The thunderous standing ovation from our 600 CEOs at the event confirming not only the power of his inspiration but the real-world value of his insights, strategies and high-performance tools.
---
---
Eugene Bomba
---
"He kept the group entertained, completely engaged and his energy was explosive"
He kept the group entertained, completely engaged and his energy was explosive. His acute focus on the issues facing our members in their professional and personal lives was remarkable. He left us all with practical tips and insights that I know will help us all grow our businesses and live and work with greater effectiveness in the future.
---
---
Yaroslav Glazunov
---
"He truly deserved the standing ovation that everyone gave him"
Robin Sharma was inspirational and exceeded the highest expectations of the audience. His words were moving and inspiring to everyone including myself. He truly deserved the standing ovation that everyone gave him.
---
---
Balakrishnan G. Iyer
---
"Robin engaged, enthralled, inspired and educated us"
I've been a fan of Robin's for 10 years and invited him to Montreal to lead our premiere Young Presidents' Organization / World President's Organization event of the year. Expectations were high and they were exceeded. From start to standing ovation finish, Robin engaged, enthralled, inspired and educated us. I take great personal satisfaction knowing that the leadership lessons learned will enrich the lives of all those who attended and by extension their families, companies and communities.
---
---
Stephen Hecht
---
"The result was a real magic in the room"
I knew, after I heard you speak this summer that your closing address would be a success, and what an accomplishment it was. You captured the entire audience's attention and held them spellbound; no small feat at the end of a very busy conference. Your multimedia support is also riveting. It compliments the entire presentation beautifully. Combine this with your ability to connect with an audience, allowing those present to relate to your message and the result was a real magic in the room. I haven't seen our attendees give anyone a standing ovation in a long time, but it was spontaneous at the end of your program.
---
---
Gail A McHardy
---
"You more than delivered on all counts"
Thank you for being the keynote speaker at our general information session attended by over 1500 employees (and another 1500 from our locations in the United States, Ireland and England via satellite link). We required a world-class speaker to kick off this very special event and you more than delivered on all counts. From the moment we first contacted you to the moment you left the platform, you demonstrated the highest level of professionalism and commitment and we could not have made a better choice in engaging your services.
---
---
Greg Mumford
---
"You made a great contribution to our ability to find the leader potential in all of us"
You made a great contribution to our ability to find the leader potential in all of us. Personally, I feel like a large weight has been lifted from my shoulders. There is no obstacle too big or too daunting for me to handle with confidence. I have become an avid reader of your books and continue to recommend you highly to others.
---
---
Wayne Barnett
---