---
From the NY Times Bestselling Author of Calling in "The One" and Conscious Uncoupling
How to Heal Your Heart, Reclaim Your Power, and Live Happily Even After
Break Free From Negative Relationship Patterns, Find Emotional Freedom And Be Ready To Love Again
Reserve Your Spot
---
NOW

PLAYING

:

FOR

A

LIMITED

TIME

ONLY
---
---
Register now to heal your heart from past heartbreak and move forward in love.
This Masterclass is FREE and plays in your local time. Choose your preferred session below.
By clicking the button above, you are creating an account with Mindvalley and agree to our Privacy Policy and Terms of Use, including receiving emails.
---
---
---
Book Your Calendar
Block out the time in your calendar and make sure you're in a distraction-free environment.
---
60 Minutes
Schedule approximately 60 minutes for this class.
---
Includes a Healing Heart Session
Experience this 10-minute guided exercise to reclaim your power in love.
Heal your painful heartbreak in this
FREE

Masterclass.

SHARE
Each and every one of us has experienced a heart-wrenching breakup, divorce or end of relationship. Watch This Masterclass with your friends and family so they can heal their broken hearts.
---
In This 60 Minute Masterclass, You Will:
Experience a session to heal your heart. Katherine will guide you in a powerful 10-minute exercise to release relationship hurts and instantly reclaim your power.
Have you moved on from a relationship physically, but not emotionally? Find out why time does

NOT

heal all wounds, and what you can do to release negative energy from past breakups — even if the breakup happened years ago.
Discover how to shift the energy from brokenness to kindness when ending a relationship, with or without the help of your partner.
Are you worried breaking up might hurt the kids or others involved? Learn the healing 5-step process Hollywood actress Gwyneth Paltrow used to part ways with her former husband. Use these techniques to end your relationship in a healthy way so you (and your children if you have them) stay emotionally happy.
Studies show that end-of-relationship stress is equivalent to losing a family member. Learn how to overcome the grief of a breakup and move forward in peace and happiness.
Discover the 4 Big Relationship Myths and how these lies could be keeping you from feeling more whole, more complete, and more free in love..
Is 'Happily Ever After' syndrome holding you back? Learn how to reject this false belief so you can finally free yourself for more love in your life.
And so much more…
---
---
---
---
---
---
---
---
---
Meet Your Host, Vishen Lakhiani
---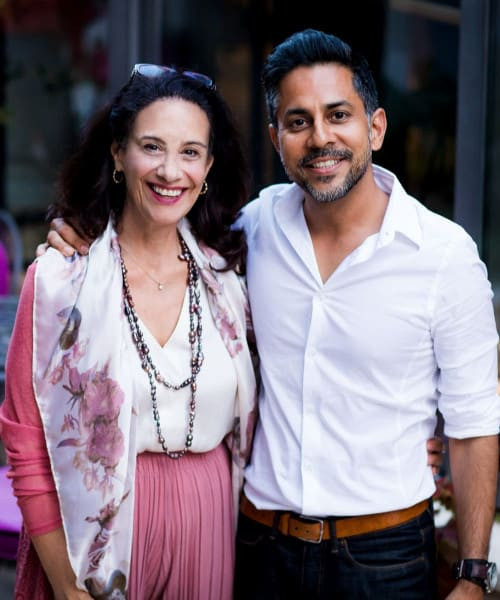 ---
Vishen Lakhiani is the founder of the world's largest personal growth company, Mindvalley. He is also the author of the NY Times Bestseller 'The Code Of The Extraordinary Mind'. He is one of the foremost leaders in the field of human development and founder of numerous brand names in the field of spirituality, consciousness and personal growth from the A-Fest festival, to Mindvalley University to the Omvana App.
When Vishen Lakhiani and his former wife, Kristina Mand-Lakhiani, decided to end their marriage, they knew they wanted to part romantically, but remain friends and co-parents to their two children. Using Conscious Uncoupling by Katherine Woodward Thomas allowed them to release each other from the societal myths of marriage and transition in freedom and love, as friends, parents, and business partners.
CEO and Founder of Mindvalley
What People Say About Katherine Woodward Thomas
---
"Katherine Woodward Thomas brings a gentle but fiercely powerful approach to what can otherwise be such a painful experience."
Through Conscious Uncoupling, we can transform the deepest disappointment into a sacred journey from sorrow to peace.
---
---
Marianne Williamson
"Conscious Uncoupling is a kind and compassionate guide on how to overcome breakup grief and use it to transform and enrich your entire life."
The process Katherine Woodward Thomas provides will not only help make your heart whole again, but will also ensure a positive, hopeful future for all involved. A paradigm- shifting book that promises to uplevel how we collectively do breakups moving forward.
---
---
John Gray
"I have known Katherine Woodward Thomas for many years and can attest to the fact that she is a most brilliant teacher."
Her articulation of the principles and subtleties of the adventure of relationship is impeccable. Regardless if one is seeking to bring their beloved into their life or release a relationship to assume another form, her teachings are stellar guideposts for this kind of sacred transformation. She's the real deal.
---
---
Michael Beckwith
"Katherine Woodward Thomas is my relationship guru."
Her wisdom and guidance helped me clear all blocks to romantic freedom. Conscious Uncoupling will help you embrace the true meaning of forgiveness and restore your faith in love.
---
---
Gabrielle Bernstein
"Katherine Woodward Thomas is as wise and intelligent as she is empathic and brave."
Her knowledgeable, visionary and clear teachings have consistently represented empowerment and healing to so many, myself included. Her seer-like insight and her gentle yet unwaveringly leading-edge and applicable guidance holds our hands as we traverse the often debilitating territory of breakups and endings. I am so happy Katherine is on this planet.
---
---
Alanis Morissette
"Conscious Uncoupling is a powerful and groundbreaking process that provides a proven path to healing and wholeness from the devastation of heartbreak."
From her decades of experience as a therapist and her personal story of divorce, Katherine Woodward Thomas reveals the transformative steps back to a life of love, freedom, and happiness.
---
---
Arielle Ford
---
Break Free From Negative Relationships Patterns, Reclaim Your Power, and Open Your Heart For Love Again
---
NOW

PLAYING

:

FOR

A

LIMITED

TIME

ONLY
---
---
Register now to heal your heart from past heartbreak and create true happiness in love.
This Masterclass is FREE and plays in your local time. Choose your preferred session below.
By clicking the button above, you are creating an account with Mindvalley and agree to our Privacy Policy and Terms of Use, including receiving emails.
---
---