---
---
---
Now Happening in Cities Around the World. A One Day Special Event.
'Be Extraordinary' Seminar
The Be Extraordinary One Day Seminar Swings Open The Doors To A Life Beyond Ordinary… By Harnessing Aspects Of The Human Mind Most People Are Yet To Wake Up To
February 23rd — Hall of Awesomeness, Mindvalley
---
Be Extraordinary is a transcendent 1 day seminar that empowers you to bend reality and live an extraordinary life – all through Mindvalley's powerful framework for elevating your level of consciousness.
Created by Vishen Lakhiani, Be Extraordinary takes ideas from numerous legendary teachers at Mindvalley and unifies them in an elegant model for understanding your role in the world and how to perform at peak levels by learning:
An optimized practice of Meditation and performance improvement rooted in science.
A unifying philosophy for understanding your role in the world and the meaning of your life.
Methods to rapidly access enriched states of mind including happiness, confidence, vision and peace.
This seminar has the synthesis of over 25 years of Vishen's study and wisdom-gathering from history's most extraordinary individuals and plus results of experimentation with numerous personal growth methodologies and frameworks.
Vishen work led to Mindvalley, the personal growth company behind many of today's top personal growth authors and programs. It also led to the book "The Code of the Extraordinary Mind", which became an international best-seller and was Amazon.com's #1 book in the world across all categories for several days in 2017.
What's Covered in the One Day Event
Be Extraordinary takes place over 7 to 8 hours in locations around the world. During the event you'll experience and learn the following:
1. The 6 Phase Meditation
The Advanced protocol for the 6 Phase Meditation. Vishen Lakhiani's meditation method designed for optimized human functioning, popularized in the book "The Code of the Extraordinary Mind"
2. The 3 Most Important Questions
The 3 Most Important Questions for goal setting and building a vision for your life that is free from the brules (bull*hit rules) of societal conditioning. It's a way to strike goals that are true to your own desires and calling – and not influence from the culturescape.
3. Key Ideas From Mindvalley's Top Authors
Integrated philosophies for understanding the world and realizing your own potential. The seminar weaves and ties together powerful ideas from many of Mindvalley top teachers including Alan Watts, Michael Beckwith, Emily Fletcher, Srikumar Rao and Neale Donald Walsch.
Applications of Gratitude, Forgiveness and Compassion as a daily practice to heal past trauma, reshape your worldview and create a more solid positive mindset.
Who Is this For
This seminar is for people who know they are destined for greatness, but may be struggling to live a life of meaning right now. For those who desire to do amazing things but are caught in a few negative patterns and need that something to help them break out.
Becoming Extraordinary takes you through all the essential Mindvalley philosophies and ties together the best teachings from all the top Mindvalley authors. You'll learn how to integrate Forgiveness, Compassion, Gratitude, Advanced Goal Setting, Creative Visualization and Intention into your daily life.
It goes into the depths of your conscious and makes you aware of your "brules", habits, and mindsets that are holding you back in life. It gives you a practical toolkit, backed up by science, for you to rewire your brain and see you life accelerate in the direction of your wildest dreams.
---
Your Trainers
The Becoming Extraordinary seminar is delivered by Mindvalley's Certified Trainers. More than coaches, each Mindvalley Trainer is a successful entrepreneur in their own right and someone who lives and breathes personal growth. Using the framework designed by Vishen Lakhiani they take you through the complete Be Extraordinary Experience.
---
KarFei Cheah
KarFei's fascination with human behavior and psychology from an early age kickstarted his journey with coaching 8 years ago. Enthralled with how people worked and why they do the things they do, he pursued knowledge from the world's best teachers in leadership, coaching, hypnosis, subconscious mind, and personal well-being.
He is currently the Resident Coach and Head of Learning & Culture in Mindvalley. His coaching with team members in Mindvalley covers leadership coaching (Marshall Goldsmith Coaching), life coaching, career coaching, and hypnotherapy. He regularly gets invited to speak in MNCs and HR conferences around the world on creating a better workplace culture. His largest audience was Asia's largest HR Conference, HRM Asia.
He is also the Founder of Life Redesigned. Along with his team, they aim to coach and develop young people in the global workforce to create a better workplace and a better world. His approach is to redesign and remap new strategies for people to succeed in all different aspects of life. He has coached and trained young leaders at workplaces such as Procter and Gamble (P&G), IBM, Accenture, Great Eastern and other clients.
Kar Fei also specializes in social business innovation and transformation. KarFei has trained with/for organizations such as MaGIC, Tandemic, and IBM in social business transformations using Design Thinking.
His successes and achievements in his coaching career has gotten him the privilege to be selected as an Official Member of the Forbes Coaches Council, an invitation-only community for leading business and career coaches by Forbes.
He was selected as part of the Hive Global Leaders Program in Harvard Business School to work towards the UN Sustainable Development Goals (SDGs). Apart from speaking and coaching in more than 15 countries across continents, Kar Fei is the few that were selected to be part of the Global Shapers Community initiative by World Economic Forum (WEF).
---
Natalia Sloma
Natalia Sloma is a Mindvalley Certified Trainer, Transformational Life Coach and the Founder of Zentra, stress reduction program based on tantric practices and mindfulness techniques.
Natalia, originally from Poland, studied at Warsaw School of Economics and University of Vienna and graduated with a Master's degree in Business Management. For more than 10 years she was a manager for celebrity A-Listers and production manager in the Music Industry. She organized artistic & educational events all over the world, launched her own theater, and was Master of Ceremonies in Poland and the UK.
Years of a high pressure, fast paced lifestyle took their toll, and after reaching breaking point she discovered meditation and tantra to open up to new approaches in life. She moved to Kuala Lumpur, Malaysia, to join Mindvalley. Here she worked on developing courses and organizing events – including "Be Extraordinary" the number 1 seminar of Vishen Lakhiani – Mindvalley's Founder and CEO. She's got trainers and coaching certifications and become the lead manager of all of Mindvalley's Certified Trainers, 40 people from all over the world on a mission to deliver transformation. Early this year she also launched in Los Angeles her new project, Zentra, a blend of tantric practises with mindfulness techniques.
Today she lives in Asia where she continues to deepen her coaching, tantric and mindfulness practices in key spiritual communities.
---
Lu Xanne Boon
As a member on the Forbes Coaches Council and awarded the Top 100 Global Coaches in the World, Lu Xanne discovered her passion for coaching through her constant fascination with human behavior. As a coach and Master Neuro-Linguistic Practitioner, Lu Xanne has worked with CEOs of government-linked agencies, department heads from leading banks, NGO's, and has trained youth leaders from prestigious higher institutions.
Currently, Lu Xanne is working with Mindvalley- one of the fastest-growing personal growth companies in the world where she spearheads coaching programs with over 300 of Mindvalley's team members who hail from 47 different nationalities. This diversity has really given Lu Xanne immense experience and knowledge in developing transformational approaches with real, rapid results that help people live out a truly extraordinary life.
Besides coaching, Lu Xanne is also a trained therapist and a sought-after international speaker. She has also spoken on the TEDx stage. Lu Xanne travels the world to speak and share her approaches to having a well-integrated life and how we can utilize the power of the mind. She works with clients to break free from past limiting beliefs, fears, and traumas that have limited them to live out their true potential.
Lu Xanne has represented Malaysia twice in the renowned World Economic Forum 2013 and 2015 in Davos, Switzerland. She has also appeared on various media platforms such as The Edge, BFM Radio, Bella NTV7, Astro Hitz, The Star, and various other publications. She is also a First Class Honours holder in BSc in Psychology and Communication, certified in the ICF-recognized Diploma in Workplace and Business Coaching, as well as a practitioner of the Inventory for Workplace Attitude and Motivation (iWAM).
Experience The Event
---
Amazon's #1 Bestselling Book
The 6 Phase Meditation was first revealed in Vishen's book "The Code of the Extraordinary Mind" – now an NYT bestseller, and Amazon's #1 book for several days in 2017.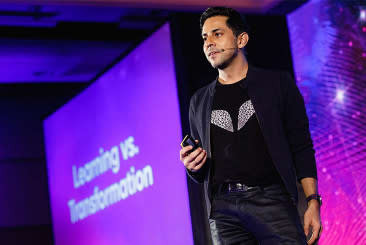 1 Million Views And Counting
Vishen presented The 6 Phase Meditation at the Wisdom 2.0 Europe event in Google HQ. The recording has now been viewed over 1 million times. Watch here .
A Mindvalley Tradition
The 6 Phase Meditation is a popular mainstay at Mindvalley's global events – including the 800+ person Mindvalley Reunion event in San Diego, August 2017.
Full Agenda
Part 1: The Evolution Of Consciousness
In this module you will learn about the 4 levels of consciousness. This module will cover Satori and Kensho experiences and how these are crucial to ascending up the levels of consciousness. You will master the states of consciousness (waking up) & stages of consciousness (growing up).
Part 2: Bending Reality
You will understand the framework that puts you in a state of Bending Reality. You will uncover the relationship and key to happiness in the now versus your vision of the future. You'll learn how to dream big, play big and push your boundaries. You will learn about the state of mind in which you are pulled forward by big goals, yet happy where you are now. You will develop through this a feeling of continuous growth and being "lucky".
Part 3: The Advanced 6 Phase Meditation
You will go deep into the teachings of this radical way to meditate that will have a profound effect on your life. You will be guided through the The Advanced version of the 6 Phase Meditation to directly experience how powerful it is. Plus get insights into the inner workings and deep brain-rewiring that it achieves. This module covers compassion, gratitude, forgiveness, future dreaming, the perfect day and blessings.
Part 4: Limitless Goal Setting
Watch Even Your Biggest Goals Come True. With traditional methods of goal setting, you can only set a goal as big as you can imagine. When you learn to operate from inspiration, you will achieve and experience things beyond your imagination. It's as though you're tapped into a higher power that guides you. You will learn the difference between means versus ends goals and how this gives you the blueprint for the transformational: Three Most Important Questions.
You will also learn about advanced powerful techniques including how to turn problems into projects, the Power Pause, the Invisible Councillor, the Delta Doorway, and many more practices and tools to turn your everyday life into a living masterpiece.
What You Gain
When you join any Be Extraordinary seminar, you will learn:
A road map to higher levels of consciousness and a better quality of life.
Tools and practices to envision the life of your dreams and actually create it.
Learn how to remove your old fears and worries from your life for good.
Learn to tap into advanced conscious abilities, such as intuition, creativity, compassion, the ability to bend reality with your mind, and feelings of oneness.
Learn paradigm-shifting truths about your mind, your body and the universe we live in, from a spiritual yet scientific standpoint.
You'll get a fresh perspective on who you really are, why you're here, and perhaps even a new lease on life.
An immersive guided meditation sessions that will awaken your gifts, melt away stress and reveal hidden truths about your innermost emotions and desires.
New friends and a global community of like minded visionaries, rebels, and conscious creators.
Success Stories From Students Who
Attended 'Be Extraordinary' Seminar
---