---
Who Says The Best Days Of Your Life Stop After College?
Imagine – one of the most iconic international cities becoming both your home and your playground for 21 magical days. One day, you're navigating through its winding canals. The next, you're enjoying the lush sounds of a jazz band in an underground club. Between the sprawling parks, world renowned art galleries and charming coffee shops, you're never short of exciting things to explore with a Tribe that's become as close to you as family.
Throughout the day, you greet your best friends — and make new ones from every corner of the world. You laugh, love, learn and experience life-changing shifts together. From scheduled learning sessions to spontaneous growth gatherings, you share a deep connection. Everyday, you feel more and more like home.
Introducing Mindvalley University, the 21-Day Global Campus for Transformational Learning.
Dive into Workshops, Talks, Seminars, and Networking with the Brightest Minds in Personal Development.
Discover. Explore. Connect. Learn.
---
100+ Outstanding Teachers
---
1000+ Global Participants
---
300+ Talks and Workshops
---
Education, Evolved.
Mindvalley University is a 21-Day deep dive into the topics that truly fuel your growth. You can join for 1, 2 or 3 weeks. This global campus takes place in a different city every year. For 21 days, you're able to immerse yourself in a curated community of workshops, talks, and seminars, plus amazing networking opportunities.
We bring in experts in every field of life: conscious uncoupling, entrepreneurship, modern parenting, spirituality, and so much more. All to support your personal development journey, at any age and stage of your life.
Whether you're 3 or 93, at the end of 21 days, you'll look back on your transformational learning and say: it changed my life. "What really blew my mind the most was the quality of the people I met. They were all loving, open minded and really into self-growth. People with a, humanity-plus mentality." – Andra Trita, Mindvalley University Student.
---
---
Connect With An Incredible Community
Network and party with a diverse community of people just like you—entrepreneurs, parents, students, teachers, creatives…anyone and everyone.
Connect and accelerate your business— maybe you'll meet your future co-founder!
Create deeper bonds with family and make lifelong friendships.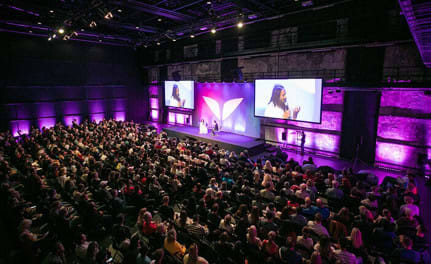 ---
Give Yourself Some Much-Needed Love
Learn from world class teachers in business and personal development.
Acquire real world life skills that truly lead to a happier life.
Develop an accelerated path to your next level of life.
---
New City, New Experience
Experience different cultures.
Learn and growth through a different kind of immersive experience, where the city and culture play a major role.
---
Flexible Learning For All Ages
We have classes for adults, teens and children.
Get access to the full agenda of workshops, talks, masterminds, and seminars.
Better yourself, better your relationships with others, and become more connected to the world around you.
---
Tribe Of Changemakers
Meet, network and party with a diverse and amazing community of diverse and extraordinary leaders, thinkers and doers – from CEOs, best-selling authors and award-winning artists to growth-hacking entrepreneurs, business owners and world-class specialists in diverse fields.
Next Event:
Amsterdam, The Netherlands
---
July 13 – Aug 2, 2020
Take advantage of our limited Super Early Bird tickets today.
Apply Now
Teachers from the past editions of Mindvalley University
At Mindvalley University, expect to learn from the leading-edge experts, teachers and thought-leaders in their field. Whether you choose to join us for a week or for the entire event, you'll emerge the other side a fundamentally different person as you level-up in every aspect of your life.
---
Vishen Lakhiani
---
Katherine Woodward Thomas
---
Verne Harnish
---
Steven Kotler
---
Gelong Thubten
---
Sonia Choquette
---
Panache Desai
---
Marie Diamond
---
Brendan Kane
---
Marisa Peer
---
Eric Edmeades
---
Jon & Missy Butcher
---
Jim Kwik
---
Lisa Nichols
---
Shelly Lefkoe
---
Neale Donald Walsch
---
Wim Hof
---
Dr. Shefali Tsabary
---
Srikumar Rao
---
Sri Sri Ravishankar
---
Nassim Haramein
What Happened in 2019
Curious to know what our Tribe experienced at Mindvalley University in Pula, Croatia? Check out last years schedule below.
Vishen Lakhniani on Why Mindvalley University is his favorite time of the Year
---
---
Behind the scenes of Mindvalley University Pula with Vishen
---
One Moment Could Transform Your Life
At every turn, there seems to be yet another person living without freedom… without joy… without walking in their life's purpose. Our current society can seem to throw challenge after challenge your way. And these obstacles can creep into their way into your consciousness, until you feel like you can't find your place.
But right now, you have the chance to change your challenges. You have the opportunity to join a Tribe of like-minded souls who are actively saying YES to their best selves. A Tribe who welcomes you with open arms. A Tribe that's excited to share this growth journey with you. A tribe where you belong. Mindvalley University is your Tribe. Created for you, by hundreds of people just like you. Will you join them?
Real experiences and reflections directly from our students at Mindvalley University
---
---
See what all these people who attended have to say about it
---
The Buzz
"In Mindvalley University there's a feeling that you belong"
In Mindvalley University there's a feeling that you belong, that you´re accepted just as you are, without having to mould yourself to fit in. You know that fear of rejection that is ingrained in every human when we meet new people and expose ourselves? That fear disappears because you know everyone there wants the best for you and is there to help. It feels that safe! Not only the attendees but the Mindvalley University team will make you feel that they are there with you, in the same level, learning and growing with you. And this brings the best out of us so we have a chance to become the best version of ourselves.
— Lourdes Aldanondo
"Mindvalley University is radically and successfully breaking the mold of what learning looks like."
Mindvalley U is radically and successfully breaking the mold of what learning looks like. To invite 100's of 'students' of all ages to another country and provide weeks of enriching content and experiences is bold, risky, and beyond ambitious – and they did it beautifully. I believe Mindvalley University will one day be looked upon as one of the most important social movements in the history of education.
— Akira Chan
Tony recalls his favorite vacation so far, their most recent family trip to attend Mindvalley U, a yearly conference held in a different city around the world. This year, the month-long event took place in Tallinn, Estonia. During the event, they attended lectures on everything from entrepreneurship and emotional intelligence to classes on leadership and what it means to be a feminist. Tony and Tobie said they find this type of education priceless since they feel strongly about customizing their children's education through homeschooling and want to broaden their minds and create a love for learning.
— Tony Gonzalez
"Mindvalley University was a transformational event"
Attending Mindvalley U was a transformational event because of the incredible community and leadership. Being immersed for a month with this tribe was elevating and expanding. New deep connections, greater awareness, elevated spiritual connections, being more in tune with myself and being more aware of what I want in life are just some of the things I am taking forward with me after this incredible month.
Thank you Mindvalley for bringing us all together. I am looking forward to next year!
— Danielle Shillam
"The quality of the people I met blew my mind"
What really blew my mind the most was the quality of the people I met. They were all loving, open minded and really into self growth and with a change maker, humanity plus mentality. Add to that the amazing life changing official events Mindvalley prepared for us + the ad-hoc unofficial ones created by brilliant members of the tribe. My biggest takeaway was that I awakened in me the belief that I am indeed a limitless being deserving to create & live a limitless life and my new motto is PLAN FOR & EXPECT THE IMPOSSIBLE :)
— Andra Trita
"It feels extraordinary to be part of this disruption in education"
One month learning with four teenagers in the Baltics sounded a little like jumping into cold unknown waters. The experience was incredible for all, the instagram posts of the teenagers sum it up best. They were just as blown away as us, by the connections in the tribe, opportunities to grow, the social events, the amazing city of Tallinn, and the highly professional and caring way the entire event was organised by the Mindvalley Team. It feels extraordinary to be part of this disruption in education. Absolute highlight of our lives.
— Gerry Haag